Light Painted Holiday Wedding Photograph at Rush Creek Golf Course
We started off our 2019 light paintings with a bang at Sam and Taylor's wedding in  January!
Just 3 weeks after Ryan and Kayla's wedding, also at Rush Creek (see that image and its story at the conclusion of Page One), we were back for Sam and Taylor's pretty wedding reception there!

With wind chills in the minus 20s, we were definitely not going to be light painting outside that night. We did take the wedding party outside for some photographs during the daylight hours, but we worked very, very quickly!
We were back at the pretty Grand Staircase for their light painting. This time in a bit different location, and I went horizontal this time!

Light Painted Photograph of New Brighton Aerial #498 and Unit #3
It was March, and I was itching for something cool to light paint again. So I contacted my friends at the New Brighton Fire Department and asked them if I could "Come over and play"?
They told me that this big guy was about to be replaced with a brand-new rig, so it needed a proper send-off!
Unit #3 is the 1955 CJ-5 Jeep that you see right beside her. Unit #3 is used for parades these days.
Light Painting New Brighton Fire Truck #494
This one was created literally right after completing the light painting of #498 and the Jeep CJ5. 
I looked at firefighter Mike Schute, my trusty firetruck light painting assistant in New Brighton, and he said something like, "You want to do another one, don't you?"  I probably replied with, "Only, if it's okay with you?" So we did!
I've added kids, usually in post-production, to many of my fire truck and construction vehicle light paintings. Here's our grandson, Ryder, who Grandpa added in back in the studio via green screen!
Light Painted Wedding Photograph at Elsie's Restaurant Bar & Bowling Center
Heather and Taran's spring wedding at Elsie's Restaurant Bar & Bowling Center was really fun! They had a fifties-themed wedding and they encouraged everyone to dress the part, so Joannie and I did too!
It was early spring in Minnesota and that means it's not too impressive looking outside. So, "Back to the bar!" we went for their light painted wedding photograph! Yep, we photographed at another open bar at a wedding, and a pretty cool-looking one at that!
Joannie thinks I'm crazy every time we attempt a light painting at an active bar. She's probably right. But many bars are nothing but details, like this one, and I know I can make them look fantastic when light painting them!
Light Painting Wedding Photography at Dellwood Hills Country Club
Spring took a turn for the better, and that meant that we could get back outdoors for pretty wedding photography and light painting too!
Mike and Linda's amazing April wedding day began with a beautiful wedding ceremony at St. Mary of the Lake in White Bear Lake, Minnesota.
It concluded with quite a celebration at Dellwood Hills Country Club in Dellwood, Minnesota!
While there, Joannie and I created this beautiful light painted wedding photograph, under a massive pine tree by the golf course!
Light Painted Wedding Photo at the White Bear Yacht Club
Yes, another wedding light painting! At this point, we've only been light painting for a little over two years.
I was starting to display at car shows to try and get more vehicles to light paint.
What we did have going for us was weddings, lots of them! So we kept practicing and learning our craft every chance we could. 
What makes this particular wedding light painting unique is that it was done in broad daylight! 
James and Erin's wedding day was complete by 3:00 pm in the afternoon. Yep, their pretty outdoor ceremony on White Bear Lake, and their wonderful luncheon afterward, all finished up almost six hours before the sunset!
Well, we had a streak going! We'd created a light painting at every wedding for almost two years, including weddings with blizzards and sub-zero weather! We weren't going to not light paint at a wedding if I could help it!
Good thing that we own a lot of powerful strobes!
Light Painting at the Solar Arts Building
Casey and Cassie's light painted wedding photograph was a bit on the busy side. I say that because the cool location that we found was in a high-traffic area at the Solar Arts Building in Minneapolis, MN.
Joannie and I did a lot of waiting for this spot to be "people-free" in between exposures, but it was definitely worth all of the waiting!
This cool, rustic spot, was made to be light painted! And so we did.
Dyke Delta N71AW Light Painting
Time to break away from weddings for a moment! This unique home-built aircraft was my very first light painting of an airplane!  
The story behind this one is epic! It took Alan, the plane's builder, over 34 years to complete the build!
Alan and I have become friends since this project and he's been instrumental in getting my feet wet at the EAA Airshow in Oshkosh, Wisconsin.
As with all of the other light paintings on this page, the fun story behind this image's creation can be found by clicking on the button below. This one is extra special!
Light Painted Photograph of Gregg's Vintage Gas Station and a 67 Ford Mustang
This light painting is one of the crowd favorites that I display at car shows, and it's no wonder why. 
The Mustang is certainly very cool, but Gregg's Vintage Gas Station is freakin amazing! I really wish that there were more of these restored buildings around. They are simply fantastic for light painting!
You're going to see much more from this fantastic location because I've been back several times!
Light Painting at Vadnais Heights Commons
Why so many wedding light paintings you ask? Well, everything you've seen so far was all pre-Covid. The wedding scene would change a lot in just a few months.
We were still getting the word out about our vehicle light painting and things were taking off. 
Mark and Jenna's cool light painted photograph was created at Vadnais Heights Commons in Vadnais Heights, Minnesota. Such a pretty light painting of a fantastic couple!
The Light Painting of "World-Famous" Betty's Pies!
This one is just too cool!
Joannie and I light painted "World-Famous" Betty's Pies on one of our annual "North Shore Weekends". These special weekends are when we meet our clients up on Lake Superior to create their portraits. We've been doing this for nearly 30 years!
We stopped by Betty's earlier in the day to see if they would let us try it. They gave us the thumbs up!
Betty's Pies is an institution on the North Shore of Lake Superior! If you're ever there for food and pie, you can purchase a postcard of this very image!
Keller Golf Course Light Painting
Michael and Julie's wedding day began at the incredibly beautiful Assumption Catholic Church in downtown St. Paul, Minnesota. It is one of the prettiest churches you'll find anywhere!
Their awesome wedding reception was held at Keller Golf Course in Maplewood, Minnesota. It was there that we came up with this pretty light painting for our newlyweds!
Light Painting a Zamboni!
Here's a vehicle you might not think of when talking about light painting photography, a Zamboni!
I created this fun and unique light painting as part of Lindsey's senior portraits. 
Joannie and I photographed her parent's wedding, Gail and Craig, back in 1993! And we have photographed Lindsey on many occasions since she was born. 
So, with that background, I wanted to create something unique as part of her senior portrait session, so a trip to the Lichtscheidl Arena was in order! 
After some fun hockey photos on the ice, we were fortunate enough to have the Zamboini at our disposal.
 I just had to light paint it!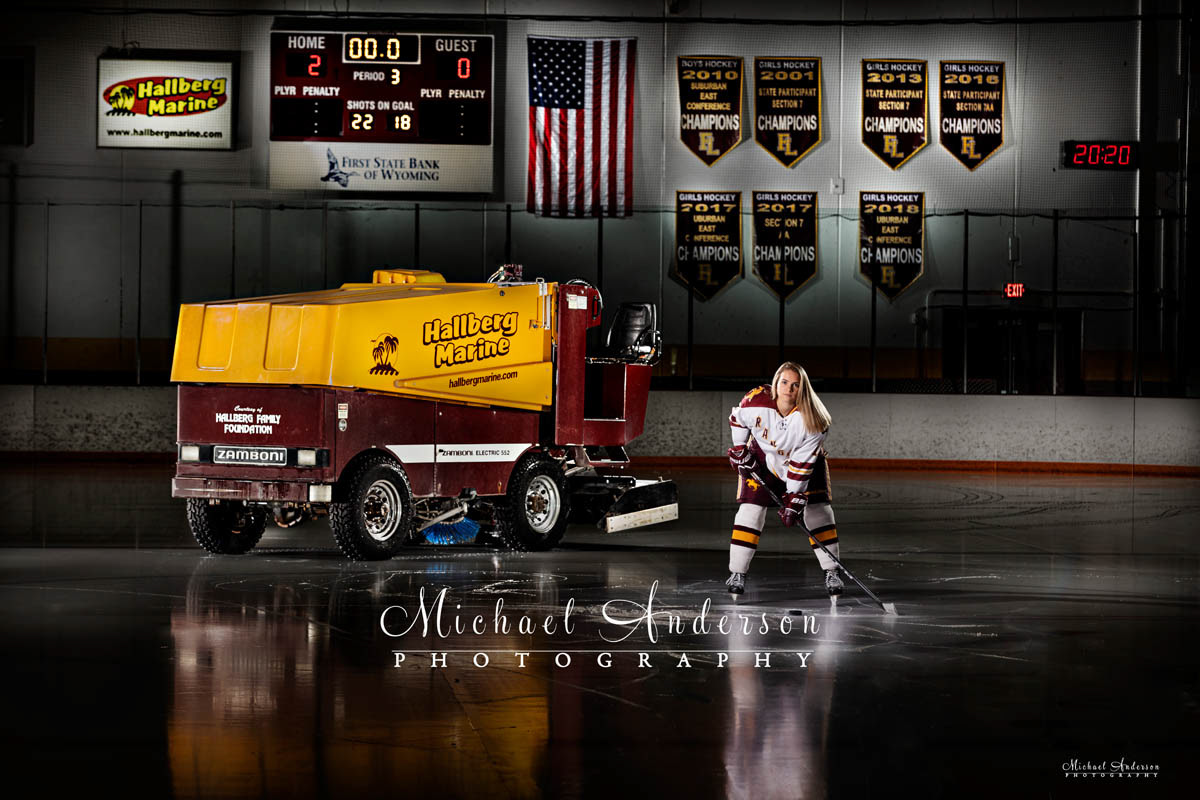 Engagement Light Painting at Little Log House Pioneer Village 
I created this image as part of April & Darrick's engagement photo session. The Country Grist Mill is right there on-site at Little Log House.
We would return for another amazing light painting at the same crazy location on their wedding day (if you've been there, you'll know what I mean)! 
And yes, that one does have a car in it, a vintage 50's Sherrif's Car!
Light Painting a 1957 C1 Corvette
The very next night, after creating Darrick and April's light painted engagement photograph, I was at it again.
On this night, I would be light painting a beautiful 1957 C1 Corvette, which, at the time, was only the second Vette that I'd ever light painted.
As you'll see in our future stories, it certainly wasn't the last time I'd be light painting a Corvette! In fact, I've light painted this particular Corvette several times since then, as well as its "cousin" a stunning 58!
I've now created enough light paintings of Corvettes that they have their very own page on this website!
This Corvette's owner, Jean, has become a good friend of ours! We've attended many local car shows with her, each time with one of her Corvettes there, along with my light painting of it, on display!
Light Painting the Pillsbury Building on the University of Minnesota Campus
Kevin & Carolina's light painting came about because we were unable to create a light painting on their wedding day.
Their wedding reception was held at a restaurant in a residential neighborhood, and there really wasn't a place to create one. Since we knew this way ahead of their wedding day, we made alternate plans.
A couple of months after their wedding, we created this whopper of a light painting!
Both of our newlyweds had attended the U of M, and so we decided that it would be a great place to create something cool!
We certainly did so in a big way, with the massive Pillsbury Building on the University of Minnesota Campus!
This is still the largest "thing" that I've ever light paintied.
Light Painted Photograph of a 1950 Oldsmobile 88 Holiday Coupe
By now, I was starting to get some real interest in having light paintings created by car owners, but the biggest problem was that another winter was right around the corner. Bummer.
However, before the cold weather returned, I had the opportunity to light paint this wonderful 1950 Oldsmobile 88 Holiday Coupe at that amazing vintage gas station in Carver, Minnesota!
Wedding Day Light Painted Photographs
On Dan and Traci's wedding day, we would be treated to a pretty outdoor ceremony at Bohemian Flats Park in Minneapolis, followed immediately by a fantastic "floating" wedding reception on the Paradise Lady Yacht! 
Then, we were all treated to a wonderful evening cruise on the Mississippi River, with a delicious dinner, and a casino night to boot!
Since it would be very tight quarters on the boat, Joannie and I made it our mission to create multiple smaller light paintings earlier in the day for our newlyweds.
Historic Minneapolis Courthouse Light Painting
Just hours after Dan and Traci's wedding, we were back in downtown Minneapolis for Chris and Becky's sweet wedding at the Historic Minneapolis Courthouse!
This would be a wedding that was concluded fairly early in the day. So, since it would not be dark out during our photography coverage, we went with the indoor light painting route.
We actually started their wedding day with this light painting before any of their family and friends had arrived for the wedding!
And, it looks pretty darn cool!
Light Painting a Pair of Ford Mustangs
Just three days after Chris and Becky's wedding, I was light painting once again! And, once again, I was back at Gregg's Vintage Gas Station for the second time in less than a week!
This time, I would be light painting a pair of Ford Mustangs! This stunning light painting, with owners Scott and Deb, included both a 1968 and a 2014. 
This one took a really long time to photograph as we hit the dew point that night and the 68 didn't like it very much. We had to wipe it down about a zillion times. 
Lesson learned. Do the older cars first when the temperatures are falling!
Light Painting Wedding Photography at the "The Port" in the St. James Hotel
Michael and Anne's fun wedding day was just three days after Scott & Deb's Mustang light painting.
This would officially be the third time that we light painted at a bar while it was open! Not only was it open, but it was open to the public!
And, just to make sure that everything could be as crazy as can be, there were guests from another wedding in there too!
We had some extremely understanding patrons and bartenders behind the making of this image! The fact that we had a bride and groom with us and that everyone was drinking, might have played into Joannie and I "getting the shot"!
This was one crazy stretch! In 18 days, we photographed 3 weddings, with at least one light painting created at each one, one engagement session that also had a full scene light painting, another portrait light painting at the U of M, and 4 light painted cars! Whew!
Wes and Lindsey's Light Painted Wedding Photograph at Grandview Lodge
Joannie and I had the honor of photographing Wes and Lindsey's October destination wedding at Grandview Lodge. 
They couldn't have had a more interesting day, weather-wise!
It snowed (snowglobe style), off and on throughout the day. But, combined with the peak fall colors, it was just stunning (but very chilly)!
The sun did come out and melt the snow, but it remained cold.
We created this really "cool" wedding light painting during their reception at The Gull Lake Center (pun intended).
Light Painting Our "Storytime with Santa" Set
We closed out our light painting photography for 2019 in a big way with who else? Yes, it's Santa Claus!
The Best Santa Experience was in full swing once again, helping us to raise money to find a cure for Cystic Fibrosis!
You can have your own amazing encounter with Mr. Kringle!
Visit our dedicated Santa Experience website at: www.TheBestSantaExperience.com and book your private time with the man in red for this year!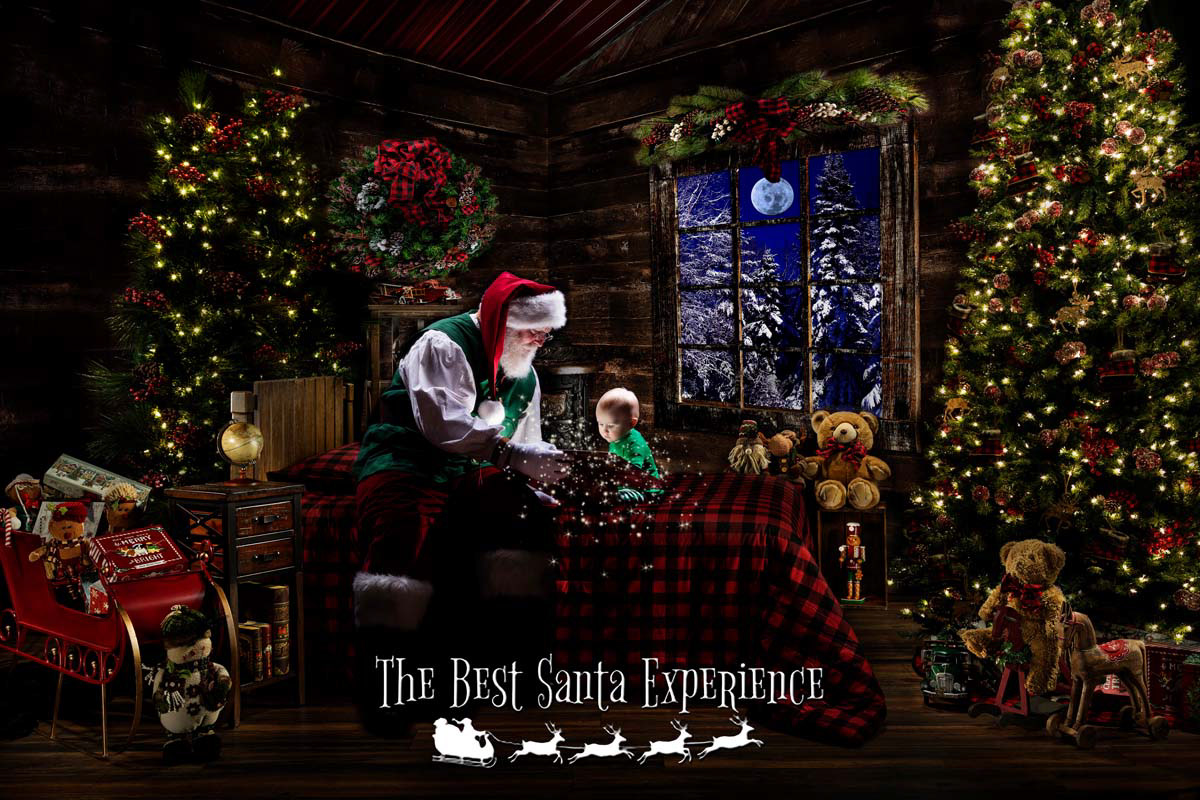 Well, this completes the collection of our 2019 light painted photographs, and their linked backstories. We'll be starting a new collection of our 2020 light paintings, and beyond, on a brand new page, that will be coming soon! Thank you for taking the time to check out some of the history of our light painting magic. - Mike & Joannie